Zelensky sings the national anthem in Kherson and the Ukrainian flag is raised
Ukrainian President Volodymyr Zelensky sang the national anthem in Kherson, a liberated city in southern Ukraine, where a blue and yellow flag was raised in front of the regional administration building on Monday in his first visit since it was recaptured from the Russians.
According to a video posted on Twitter by the chief of staff of the Ukrainian president, Andriy Yermak, Volodymyr Zelensky can be seen with his hand on his heart, singing the words of the national anthem in front of soldiers and citizens: "Our enemies will perish. , Like snow on the sun, we, brothers, will rule our country".
Zelensky, visiting Kherson, says Ukraine is "ready for peace."
Speaking to his troops for the first time in the city of Kherson, which was retaken from the Russians, the Ukrainian president said, "We are ready for peace, peace for our whole country." Reuters.
"We are moving forward," he said, praising the support of NATO members. "I'm very happy," he added.
He shared on his account telegram Many of his scenes are part of his journey.
EU increases food aid to Ukraine by 210 million euros
European Commission President Ursula Von der Leyen tweeted on Monday that the EU is increasing food aid to Ukraine by 210 million euros, bringing the total envelope in this domain to nearly 8 billion euros.
"Putin's war is driving millions to the brink of starvation," he tweeted.
Zelensky in Kherson: The Kremlin says the city belongs to Russia
The Russian response to Zelensky's arrival was immediate. The Kremlin confirmed on Monday that Kherson belonged to Russia after the city was retaken from the Russians after a visit by the Ukrainian president.
"We will not comment, as you know, this is the territory of the Russian Federation," Kremlin spokesman Dmitry Peskov said, adding that Russian forces had withdrawn from the capital last week.
G20: Russian Foreign Minister's Spokesman Denies Sergei Lavrov Was Taken to Hospital
A spokesman for Russian Foreign Minister Maria Zakharova denied that Sergey Lavrov had been taken to hospital. Reuters This Monday, talks about a "big scam".
The spokesperson shared telegram Sergey Lavrov appears to be in good health to back up his statements.
The Associated Press cited Indonesian officials as saying the Russian foreign minister was taken to a hospital in Bali, where he was traveling as part of the G20.
For his part, Bali's governor visited the Sergei Lavrov hospital, but only briefly for a simple health check-up.
Indonesian officials say the Russian foreign minister was taken to hospital after arriving at the G20 in Bali
Russian Foreign Minister Sergei Lavrov was taken to hospital Sunday evening after arriving at the G20 in Bali, Indonesian officials said. Associated Press This Monday morning.
Volodymyr Zelensky visits the city of Kherson for the first time after its liberation from the Russians
Ukrainian President Volodymyr Zelenskyi visited Kherson on Monday, a key city in the south of the country that was recaptured from the Russians last week, a source in the Ukrainian presidential office told AFP.
Russian forces withdrew from Kherson a few days ago after an eight-month occupation, opening the way for Ukrainian soldiers to enter the city on Friday.
Why did the watermelon become the symbol of the city of Kherson?
It flourishes in social networks, subject to photo montages, which are not directly accepted by some Ukrainian players who take pictures of themselves with enormous fruits. But what is watermelon doing in the Ukrainian conflict?
Produced in the Kherson region, it has become a symbol of Ukrainian resistance and recapture of the city from the Russians after last week's victory.
>> All explanations can be found in our video.
Emmanuel Macron arrives in Bali for the G20, with the conflict in Ukraine at the center of concerns.
Emmanuel Macron arrived on the Indonesian island of Bali on Monday for the G20 summit, where Elysee said France expects Russia to enter into a "logic of de-escalation" in Ukraine.
However, discussions promise to be difficult between the West on the one hand and China, India and the countries of the South on the other, who, like Indonesia, refuse to directly condemn Russia.
The conflict in Ukraine is not officially on the summit's menu, but amid fears of rising energy and food prices and nuclear power, it will be at the center of concerns.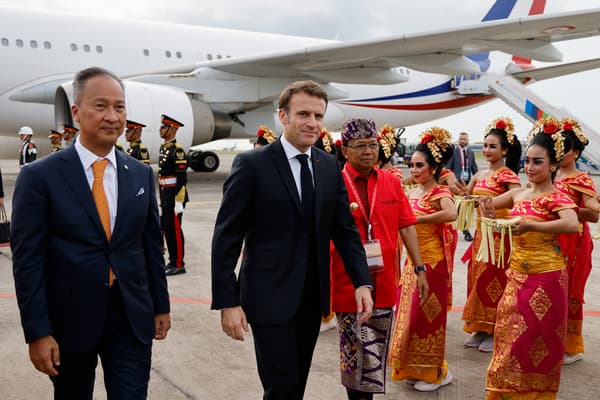 Macron says France must redouble its efforts to allow Ukrainians to 'winter'
France must "redouble its efforts" to "winterize" Ukrainians, the head of state said on Monday at France Inter.
"We need to make more diplomatic efforts to get everyone back to the table," he called again.
Emmanuel Macron took the opportunity to recall France's efforts to provide Ukraine with "artillery and defensive anti-missile systems" and "humanitarian" aid.
Russian ideologue Alexander Dugin reiterates support for Putin after Kherson retreat
Alexander Dugin, a Russian ultranationalist ideologue considered one of the staunchest supporters of the offensive in Ukraine, has pledged loyalty to Vladimir Putin despite Moscow's defeat in the Ukrainian city of Kherson.
"West (…) started broadcasting Fake "I and the Russian patriots are moving away from Putin since the (false) surrender of Kherson and demand his departure," Alexander Dugin said in Telegram on Saturday evening.
"Suffering from the loss of Kherson is one thing. But our relationship with the commander is different. We are loyal to Putin and will support the military operation (in Ukraine) and Russia to the end," he said. was added.
Recapturing Kherson: General Palomeros believes "Putin will not recognize this defeat".
After the recapture of Kherson, General Jean-Paul Palomeros confirmed on BFMTV that "Putin will not recognize this defeat".
"He will leave it to the military leaders that this is a strategic departure and he will try to use another opportunity to bounce back in a different way," he analysed.
General Palomeros believes that financial aid to Ukraine must continue "if this European country is to remain sovereign".
France and many other Western allies in Que continue to help Ukraine militarily and financially, and General Jean-Paul Palomeros told BFMTV that the aid should continue.
"Ukrainians need global help, their economy turned upside down by Putin", he notes, "the effort is substantial and it needs to be scaled up".
"If we want this European country to be sovereign, this initiative must be supported," he said.
Cyber ​​attacks: General Palomeros believes France "has the weapons" but "we are in an asymmetric war".
General Jean-Paul Palomeros, whose France has been the victim of Russian cyber attacks on several occasions like other NATO countries, believes France "has the weapons" but "we are in an asymmetric war". "Attack parties are always on the move," he said.
In response, he calls for "preparedness together" and contemplates retaliatory measures from Chinese or Russian-sponsored groups.
Recapturing Kherson: A "beautiful victory", but not a "decisive victory" for Ukraine, General Palomeros says.
Last week's reopening of Kherson was a "tremendous victory," but not a "decisive victory," BFMTV General Jean-Paul Paloméros, a former Air Force chief and former NATO alliance commander, told BFMTV this Monday.
He believes that "the Russians have left for good," and recalls that Moscow "still controls 60% of Kherson province."
Vladimir Putin will not attend the G20 summit that begins in Bali on Tuesday
Will undoubtedly be noticed. Vladimir Putin has decided not to attend the G20 summit in Bali, Indonesia starting on Tuesday.
"This decision (not to come) was taken personally by the head of state, which is connected to his agenda and the need for him to stay in Russia," said Dmitry Peskov, a spokesman for the Russian president.
But against the backdrop of the war in Ukraine, it illustrates Russia's growing isolation on the international stage. On the other hand, the head of Russian diplomacy, Sergei Lavrov, has already arrived at the venue.
Zelensky accuses Russians of 'atrocities' in Kherson
Ukrainian President Volodymyr Zelensky has accused Russian forces of "atrocities" in Kherson, days after Ukrainians retook the city.
"The bodies of the killed have been found: bodies of civilians and soldiers. In the Kherson region, the Russian army left behind the same atrocities as in the rest of our country, where it was able to enter," Volodymyr Zelensky said on Sunday. evening during his daily address.
For Washington, ending the war in Ukraine is the best way to revive the global economy
U.S. Treasury Secretary Janet Yellen said Monday that ending the war in Ukraine is the best way to solve the world's economic woes. In an apparent message to Russia ahead of the G20 summit in Indonesia.
"Ending Russia's war is a moral imperative and the best thing to do for the world economy," Janet Yellen told reporters on the sidelines of a meeting with her French counterpart, Bruno Le Maire.
Zelensky accused Russia of committing at least 400 war crimes.
In his speech on Sunday evening, Ukrainian President Volodymyr Zelensky said 400 Russian "war crimes" had been documented.
He lamented that "bodies of civilians and soldiers have been found" by Ukrainian authorities in the liberated territories.
Hello everyone!
Welcome to this live stream dedicated to monitoring the war in Ukraine on Monday, November 14, 2022.
"Award-winning internet enthusiast. Food geek. Social media maven. Subtly charming bacon buff. Organizer. Student."